Arm prices IPO
Posted Date:2023-09-05 13:32:20
Arm has priced  its IPO at $47-51 per share valuing the company at at $50-54 billion – compared to the estimated range of $19-73 billion.
It is thought that Arm will sell  10% of the company to raise $5-5.4 billion.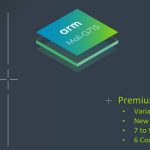 Anchor investors, which agree to take shares in advance of the offer, include: Apple, Nvidia, Alphabet, AMD, Intel, Samsung. Cadence Design Systems, and Synopsys.
Last month, in an internal transfer, Softbank bought the 25% of Arm which it has previously sold to its Vision Fund, for a price  which put a $64 billion value on Arm.
A oroblem with valuing Arm is the uncertainty over the revenues from Arm China in which Arm does not have a controlling interest and  which constitute 24% of Arm's total revenues
View more : IGBT modules | LCD displays | Electronic Components


Source from: https://www.shunlongwei.com/arm-prices-ipo/
---